Traducta also has a linguistic and translation office in the popular tourist destination of Lucerne.
The beautiful old city is known far and wide for its history and its extraordinary cultural opportunities. The KKL Lucerne is well-known among music lovers throughout the world.  
Our translation agency in Lucerne provides the following services:
Technical translations
Specialised translations
Financial translations
Medical translations
Urgent translations
Legal translations
Official / Sworn / Certified translations
Website translations
Proofreading & Editing services
DTP
Transcription services
Voice-overs
Subtitles
Interpreting services
Please do not hesitate to contact us for further information by e-mail (luzern@traducta.ch) or phone (0800 888 440), Monday to Friday, 9 a.m. to 6 p.m.
To receive your quote within a few hours, please fill out the form below.
Our quotes are free of charge and demonstrate the quality and flexibility of our service.
Customer service
E-mail: luzern@traducta.ch
Telephone: 0800 888 440
Hours: Monday to Friday from 9 am to 6 pm
c/o Premium Business Center Citybay
Werftestrasse 4
Postfach 2558
6002 Luzern 2, Universität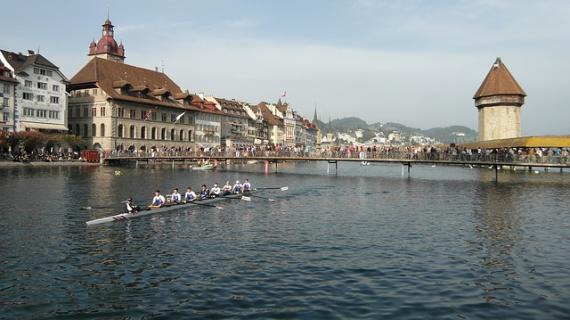 Lucerne attracts tourists with triangular paintings
Lucerne is the social and cultural centre of central Switzerland. Tourists love Lucerne not only for its location at Lake Lucerne but also for its proximity to the Alps. The meandering Chapel Bridge with its triangular paintings is not only a symbol of the city, but also one of its most important attractions. The Lion Monument and the Swiss Museum of Transport round off a sightseeing tour through Lucerne, which usually begins in the picturesque Old Town. The city has several twinning partnerships, including Bournemouth in the UK, guests from which are greeted in perfect Oxford English, and Olomouc, a large city in the Czech Republic.
The majority of Lucerne's population have Swiss roots. Only around a quarter of residents have moved here from elsewhere and the largest group among these is German – just under 4,000 Germans live in the city, almost twice as many as Italians. The university also attracts many young people who are later happy to stay, and the Lucerne Fasnacht carnival and the Lucerne Festival arouse great interest far and wide.